Why Blacksburg?
On a spring Saturday night, downtown Main Street in Blacksburg, Virginia, is thronged with people. Brightly lit restaurants buzz with patrons noshing on vegetarian at Gillie's or upscale farm-to-table fare at The Black Hen. Bars get raucous with live music. The Lyric, a 1929 movie theater restored to its former glory, wafts the scent of popcorn onto College Avenue. It's a lower-wattage version of the crazy energy Blacksburg generates on fall football weekends when 66,000 rabid fans pour into Virginia Tech's Lane Stadium.
With all that, you'd be forgiven for struggling to believe that Blacksburg is a small town with a population of 43,000 — more than half of whom are students at Virginia Tech. But the pace of the town always turns peaceful again on weekdays, when deer (and sometimes black bears) wander through local yards.
Blacksburg's two identities — the Southern country town 40 minutes from the nearest mid-size city, Roanoke, and the educated, sophisticated would-be city that's centered on Virginia Tech's campus — have a Clark Kent/Superman thing going on. But the alter egos work out well for residents who want easy livability and serious leisure, as evidenced by Blacksburg's appearance on our Top 100 Best Places to Live list.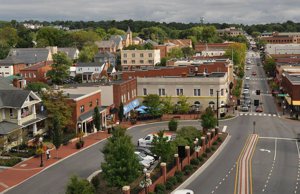 For instance, the town boasts well-ranked schools, including a brand-new, multi-million-dollar high school, that you can get to with only a smidgen of city-style traffic. And you don't have to leave behind the serene mountain views or the access to hiking, biking, and horse trails to get yourself a ticket to catch a world-class musician like Yo-Yo Ma performing at the recently built Moss Arts Center on the Virginia Tech campus.
According to Mayor Leslie Hager-Smith, there's "an' enoughness' that permeates town culture. We are a product of our geography as much as our history. We occupy our small patch of Appalachia with gratitude for what we have and not much concern for what we don't have. This understanding makes me proud — in an age when people are hungry for authenticity, Blacksburg has enough to share. "
That authenticity is both cultivated and guarded. A decade ago, residents successfully defeated a proposal to build a Walmart in town, fearful of how a big-box store would affect small, independent businesses. Locals tend to be civically engaged and vocal about the kind of place they want to see.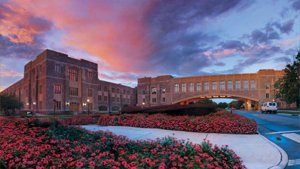 A recent meeting at the recreation center to launch a downtown master planning project was standing room only. As Hager-Smith explains, "Blacksburg citizens are highly engaged. Citizens staff our town committees; they participate in writing our Comprehensive Plan and are vocal about bikeways, dark skies, sidewalks, and open spaces. Our Community Relations office is award-winning for the many ways it reaches out to citizens — and the citizens would not have it any other way."
Growth here is inevitable: Virginia Tech has announced plans to expand its student body and businesses in its Corporate Research Center, including a wealth of technology firms. But the growth is carefully shepherded, so new housing, like the urban-style downtown apartment building The Brownstone, blends into their surroundings and offers needed amenities. And no matter what, there's always Blacksburg's down-to-earth 'outdoorsiness' to fall back on. The Appalachian Trail passes just a few miles beyond the town borders, and the nearby New River offers a summer's worth of kayaking, canoeing, and tubing.
In other words, Clark Kent's serenity and Superman sophistication right here in Blacksburg.